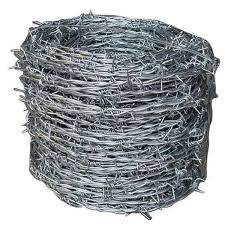 BARBED WIRE
Barbed Wire is a type of fence construction made of twisting of 2 or more long wires, which within a certain distance are interspersed with twists of wire pieces whose ends are directed perpendicular to the main wire. In general, barbed wire functions as a security fence for buildings or national borders. Barbed wire is also very instrumental in the defense of trench warfare.
Humans or animals that try to cross between or over this barbed wire will experience difficulty and may suffer injury. Barbed wire fence only requires a support post, barbed wire and hook. This fence is easy to build and erect even by people who are not experts though.
The most successful barbed wire was patented by Joseph F. Glidden of DeKalb, Illinois in 1874. It is a refinement of the invention of Louis Jannin of France in 1865.